A big 'thank you' to everyone contributing to my musical year - musical collaborators and colleagues, artists, graphic designers, photographers, producers, marketing gurus, radio presenters, friends, viewers, listeners, followers, 'commenters',  'likers', 'retweeters' and anyone else that I've missed! I thought I'd finish off my blogging year with a look back at some of my musical highlights over 2019, so here they are, and as close to chronological order as I can remember:-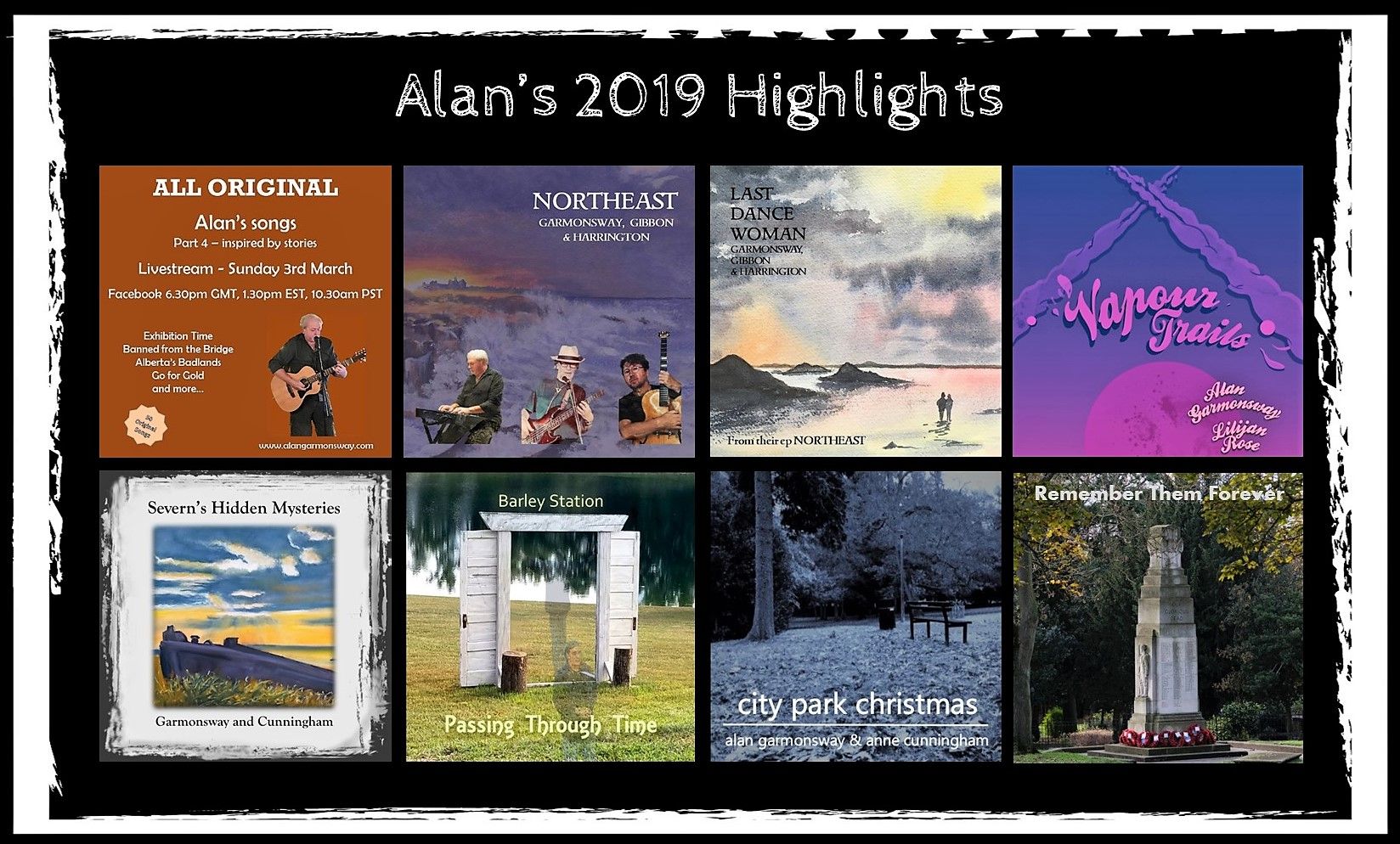 - Seven Facebook livestreams to play and introduce fifty (yes, 50!) of my original songs. I played these live on piano and 12 String to nothing but an iPhone, which was an experience in itself! It was really nice to see the positive comments as they arrived on the phone as I was playing, although this led to quite a bit of eye squinting, leading to a few dodgey notes! They're still on Facebook somewhere - I've found one of them here.
- Releasing the 'Norheast' ep with my friends Franky Gibbon and Al Harrington, with five of my original tracks, plus releasing some of them as singles as well. Thank you so much AVA Live Radio for the great publicity for the album and singles!
- Many thanks to my longstanding musical team-mate Anne Cunningham on releasing Severn's Hidden Mysteries , our first single release since the Ridgeway album in 2017. Such and emotive song, and enhanced (as was the Northeast album) by my longstanding friend, Ali Davis and her wonderful watercolour paintings.
- The Atlantic Ocean is no problem when it comes to collaborating musically. I was lucky enough to be asked by Randy Wayne Belt in the US to contribute piano and synth to his new Barley Station album Passing Through Time  on a track 'Fallin'  (third one in on the promo vid). Thanks Randy - an honour to be involved! Also, my marketing mentor Jacqueline Jax has been using some piano track covers I played and recorded for her - I appreciate you using these Jacqueline. In both cases, the piano was recorded in Europe to add to the tracks in the US - just shut your eyes while you're playing and imagine you're all in the studio together!
- The Midlands in the UK is no distance from where I live compared to the US, so it was a delight to start a new collaboration later in the year with vocalist  Lilijan Rose  on one of my songs, Vapour Trails . We started the collaboration via Instagram, and Lilijan brings a very different recording perspective to the mix. This is sounding really positive and is a great opportunity -  we are already lining up some more songs for 2020. Thank you Lilijan.
- In November, I travelled back to my native Northeast England to attend a Remembrance service at Houghton-le-Spring Parish Church  , where the choir and organist played a hymn I wrote a few years back 'Remember Them Forever' as part of a co-written musical play called 'Of Heroic Hearts'. To add to the atmosphere, I used to be part of the choir there as a schoolboy and also my Grandfather was organist and choirmaster there for many years, so it was quite emotional being there.
Phew, well that's almost it! My days are taken up not only on the recording, but with marketing and the numerous social media posts -  I really like the impromptu Instagram posts which forces me to think about 50-second soundbites! Also, I'd like to add my appreciation to Lonely Oak Radio , which regularly plays my songs on their shows. And finally.....Anne Cunningham and I have just re-released  City Park Christmas for the festive season, so watch this space. We played it live on Chiltern Voice Radio a couple of weeks back, so it seemed a good move to get the single back out there!
Thanks again for all your support and I hope you all have a very enjoyable Christmas, Happy New Year, and see you in 2020!