'Christmas on our street' released!
I'm pleased to let you know that my new Christmas single 2021 has been released. Christmas on Our Street is a bit of a fun and irreverent look at how people can behave so differently at Christmastime! Anyway, it does have a serious side as well, so please click the release cover below if you want a listen. Also, I'd like to mention artist friend Ali Davis, who I asked to paint a 'Christmas Card' cover - she provided the fantastic artwork! Also many thanks to Jacqueline Jax at AVA Live Radio for the promotion campaign. She's just released a great write-up of the single and some of my thoughts, which you can read about it by clicking the AVA Link above. Enjoy and have a great Holiday Season!
here's a special video for you of a new unreleased song 'Autumn Red'
My new song, Autumn Red, was just written a few days ago about the turning of the seasons, so I thought I'd share a live recorded version with you! I'll record it in the studio in the future, but for now I'm pretty pleased with this live take and the lyric vid which I created with a little help form Pixabay . You can find the video here, on my Facebook page,
'THIS WILL ALWAYS BE OUR SONG' HITS 16,500 streams
Delighted to say the a single release 'This Will Always Be Our Song' from my Onward Journeys album has hit over 16,500 streams in its promotion campaign! It's a really emotional song and I knew from the first time I played it that I had to keep the backing to a minimum and let the guitar and vocals do their job. Hope you like it!
I'm back into album mode!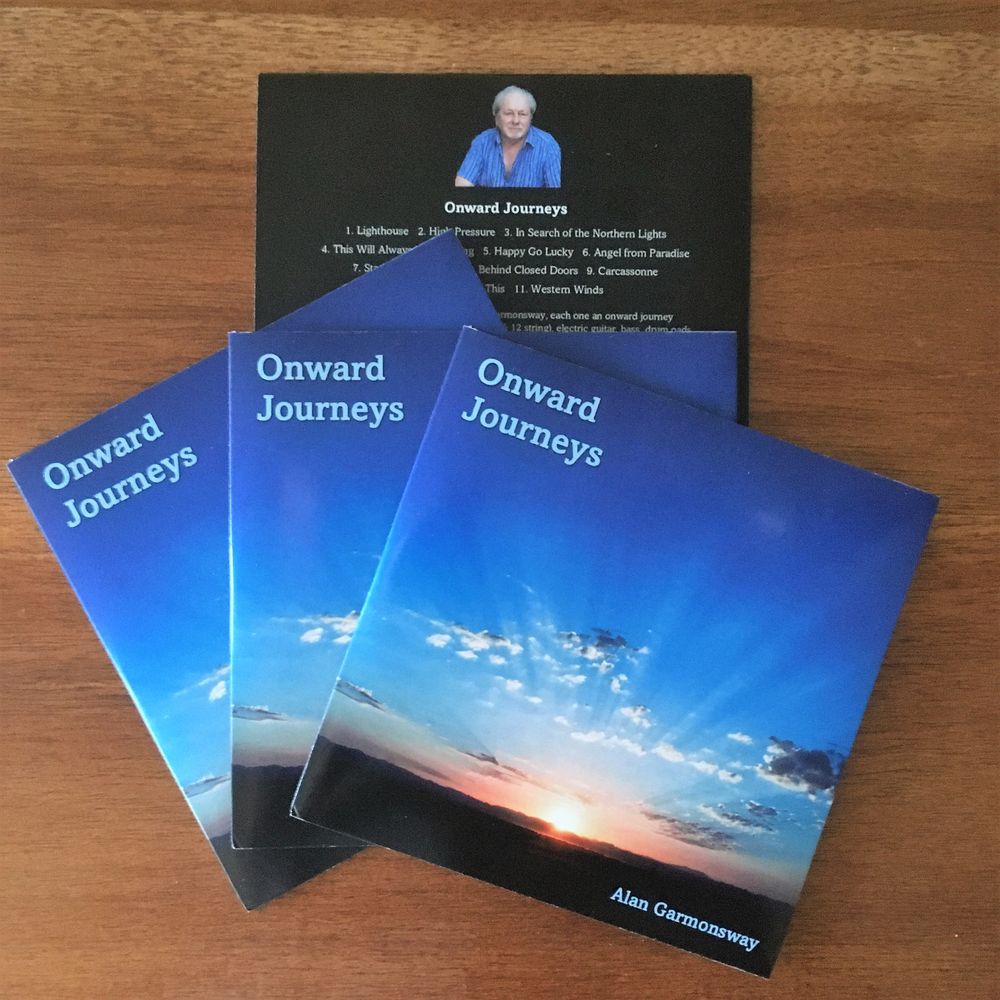 Hi Everyone. With my new-found approach to songwriting and producing, I've been working since February on a new album that captures where I'm going with my music and sound. Hence the title Onward Journeys - each song has certainly been a journey!
Mostly I've done everything myself - playing, recording, mixing and producing, but with a few notable exceptions outlined on the cover below. Though most of my work has been focused on streaming of late, it's nice to get back to a physical cd in your hand.
Some of the songs already on streaming, but have mostly been remixed and remastered for the cd. The main ones of these have clocked up over 50,000 listens so far, so I hope you like the remixes, where I've tried to put a different angle on the sound. In addition, there are some new songs which I've been playing 'live' (over the Internet) recently and have picked the best to showcase where I'm at musically right now. I think it's a combination of Indie Folk with strong keyboards and acoustic guitar, but with bass, percussion and other instruments added for variation.