Hi All
I've left my October blog a few days into November as a few noteable things happened this week.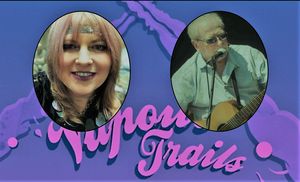 First and foremost, let me introduce Lilijan Rose via her Instagram page. Lilijan and I have started a new collaboration, with her contributing both lead and backing vocals to my songs (I play the instrumental parts). Lilijan is a very versatile and distinctive vocalist and our first single is called Vapour Trails, released this week - here's a sneak preview of a promo vid going out later. Thanks Lilijan, it's great to be working with you and look forward to more releases in 2020! Our collaboration started through making comments and offering support on our respective Instagram posts - a positive power of social media!
The vapour trails song I wrote in June this year, sitting in the back garden, looking up at the sky and wondering where all those people in the planes above were heading off to, who were they meeting, what were their stories.... A couple of years ago I also took a photo of a triangle of vapour trails around the moon (it's in the vid) and it did remind me a bit of a well known 70s album about the moon! So the whole idea came together in the song. No doubt you'll see bits of the promo on social media, and we're also being featured soon on AVA Live Radio          
Also this week, I attended St Michael's Church, Houghton-le-Spring , my original home town about 300 miles North of where I now live, for their Remembrance service. My Grandfather was organist and choirmaster there for over 50 years, I was also a choirboy there and the current organist and one of the choir members were the head choirboys when I joined as a nine-year-old, so plenty of connections. They played and sung my hymn 'Remember Them Forever' from a musical play called  Of Heroic Hearts which I co-wrote in 2016 for the centenary of the Battle of the Somme. It was very moving being back there and it evoked a lot of memories of music, family, friends and school, some happy, some sad.
Whilst I was up there I also met up with Franky Gibbon to discuss a new ep, having released the Northeast album earlier this year. We're still at the song-choosing stage, but one new song, A Love Like This, has charged through the ranks and looks to be our first single of 2020. More on that later.        
Last, but not least, our friends at Barley Station in the US have just released a new album, Passing Through Time. I was very happy and honoured to be asked to play piano and synth for one of their songs, Fallin   Enjoy!