Hi Everyone.
March has been busy and focused on two specific projects. The first is the continuing livestreams to bring you 50 of my original songs, either on piano or 12-string. I started these at the end of January in France and over the month, came back over to England. Last Saturday saw the sixth livestream and I've now clocked up 44 of my originals. The last in the series (to get me to 50) will be in a couple of weeks, and I still have songs competing to get into the final set! The most recent session featured songs written on my 12-String and can be found here. 
I've also been back to Durham, UK to continue recording an ep with a couple of good friends, Franky Gibbon and Al Harrington - both super-experienced and talented! Our ep is due to be called 'Northeast', with five of my songs. It's amazing how the songs developed in the studio, with everyone involved in adding ideas and suggestions, and we're milking every last emotion and nuance out of them. I've been particularly pleased with how the lyrics have worked with a different vocalist. Also, I've recruited on of my friends of many years standing (all the way back to school!), Alison Davis, to provide artwork as she now spends her time painting great pictures, many of the Northeast of England. But more of that in April and beyond....
There's also a single lurking in the works called 'Lighthouse', so that will find its way to release at some time, depending on how the ep develop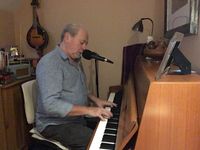 s. In the meantime, stay well and I look forward to updating you again at the end of the month.