Hi Everyone
July has been busy marketing and releasing individual tracks from our 'Northeast' album! We've had tracks played on AVA Live Radio  based in Torronto, Lonely Oak Radio based in LA, and Invisible Folk Club , based in Buckinghamshire and broadcasting on four different UK stations. In addition, Lonely Oak Radio keeps playing earlier tracks I've submitted, so I'm having an ever-growing presence on there with different tracks from different albums. Also, AVA Live Radio has featured our songs a number of times, and if you pop over to the news section of this website, you'll see a link to a feature they did for a US magazine called British Invasion!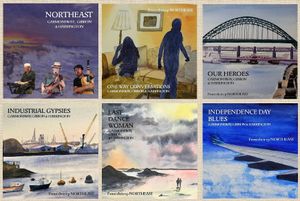 As we've been releasing some of the Northeast tracks as singles, I thought I would give a big shoutout to Ali Davis who is a good school friend from our progressive rock days and now, as an artist, very kindly offered to paint a picture not only for the album cover, but also for each track! That's been really useful as we've been able to use them on the single releases and also expand our collaboration into the sphere of art as well as music. Thank you so much Ali, and we feature your great work on this month's picture! Be sure to visit Ali's art site by clicking on her name above, and the link will take you straight there.
Looking to the future, it's a great time to take stock and decide what to do next. So, I've been looking at more tracks for Garmonsway, Gibbon and Harrington to record, but also in September, I'll be releasing a single with Anne Cunningham called Severn's Hidden Mysteries. It's about the two sides of the River Severn, beautiful and dangerous, and was inspired by some photos Anne took on her walks around that area. More of that in September, and again, Ali is involved in some stunning artwork.
Also, I'm hoping for another collaboration with another lady vocalist over the Autumn too, but more of that later. In the meantime I'm just getting on with writing a few more songs and enjoying the Summer - hope you are all doing so too!