Happy New Year everyone! January has been spent planning livestreams on Facebook and Instagram playing a selection of my original songs. The first stream kicked off last weekend with nine tracks on piano or 12-string and here's a link Livestream January 2019
I used PA for vocals and guitar, mainly just to balance out the volume against the piano, whch can overpower everything if you're not careful! However, I think I prefer singing into a mic as it seems to give me a bit more flexibility of expression - I'm not the loudest singer in the world!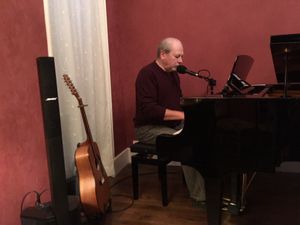 Livestream preparation.
The songs were a mix of established and very new ones; some haven't hit the studio yet and some are midway through production for a Spring release. My plans for February are to keep streaming, but aim for 5-7 originals per set. Also, I'm going to 'theme' the songs so I have themes ready for Places, Emotions and Stories. Watch out for ads on Facebook, Instagram & Twitter!
Many thanks for all the feedback on the stream and to those who shared it around. Being part of a bigger community is much appreciated and also, the extra edge of a live stream really helps to focus on getting the best out of the songs, particularly if they are new and eary-stage.
All the best for 2019 and see you in February!