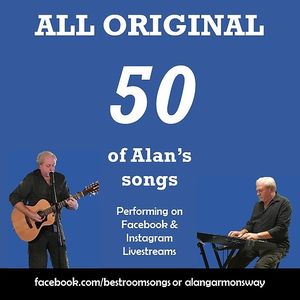 It's been a busy month! I've been focusing on playing Facebook and Instagram livestreams, with all my own original songs played on piano or 12-string. There's been a nice response to this, so the project has grown somewhat and now developed into performing 50 (yes, fifty!) of my originals. So far, I've played 23 in three sessions, so I'm looking forward to four more live sets of about 30 minutes each through March and April to reach my target.
I've trying to find a theme for each set - first was an introduction to my music, second songs about places and most recent, songs about emotions. Next up is 'songs with stories' to be performed early March - look out for details on Facebook, Instagram and Twitter. The posts stay on Facebook a while, so if you want to catch up, here's the link to the most recent Livestream 
There have been other benefits to the sessions as well. They've helped to re-present and arrange some of the songs, even those written a while ago. Also, one of the new songs I played on the first session, Lighthouse, has emerged as a natural single, so I'll be releasing this as soon as it's ready.
I'm looking forward in March to completing my 'NorthEast' project with my friends in the Durham (UK) area. We are recording five songs including a couple specifically inspired by the North East of England, where I was brought up, so more about that next month. In the meantime, stay safe and see you soon.