Hi Everyone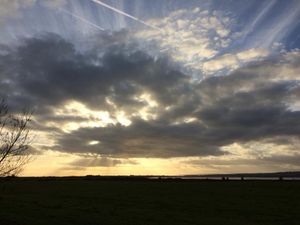 September's had quite a bit going on! Earlier in the month we launched our single 'Severn's Hidden Mysteries' collaboration with Anne Cunningham. It was promoted by AVA Live Radio and we hit over 3,000 plays on Spotify, which was very pleasing. We also used the usual Social Media promotion routes - you can see our Facebook  promo vid  here and if you want to add to our Spotify tally, just click on this Spotify Link .
Thank you everyone for your support with this - it's great to get back into some acoustic folk music. The song is about the River Severn, and started life as a photograph taken by Anne and put on Facebook with the heading 'Big sky over Gloucestershire'. I mentioned that it was a good line for a song, and that's how it started, and here's the picture (thanks Anne!).
The rest of the month has been about preparation - I've been pulling together six new and previously unrecorded songs for the next project with Messers Gibbon and Harrington, so that is starting to take shape. Here's a little bit of instrumental from one of the songs, Don't Bother Me, on my Instagram link .
Also I'm in the later phases of recording a new single as another collaboration (to be reveled shortly!) and we're hoping for a late November release. It's looking and sounding really promising! In the meantime, enjoy your October!