Hello Everyone
It's hard to know where to start on this entry. Having been in France when the first major news of Covid19 hit the press regarding Italy, we kind of carried on as normal over there until the middle of March, when their lockdown was initiated. By that time I'd just finished recording a track called Western Winds, only to find out that our return ferry in April to the UK was cancelled indefinitely and the trains through the Channel Tunnel were rapidly being cancelled also. So we came back to the UK early, driving 500 miles across a deserted France and not-so-deserted UK. That evening the UK lockdown started and here we still are, so this is officially my 61st day.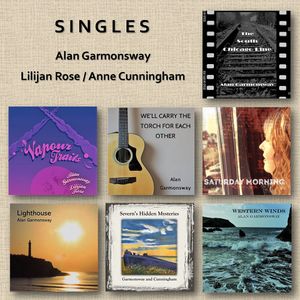 Regarding music, it's left me with the challenge of improvising a 'studio' here out of a laptop and a few bits and pieces of equipment, although I'm ok for instruments. An early Facebook livestream by Richard Thompson inspired me to detune my 12 String and write 'We'll Carry the Torch for Each Other', an acoustic tribute to everyone, but especially musicians, feeling the effects of isolation. Although a simple guitar + voice recording (ok, with a couple of subtle overdubs!), I decided to release it and it's now nearing 25,000 streams on Spotify ,ably assisted by promotion from  AVA Live Radio , which is very gratifying. Closely running along with that is Saturday Morning with Lilijan Rose  starring on vocals, which is at nearly 20,000 hits. So all in all, it's been a really pleasing couple of months from that perspective.
I also took a look at all the individual tracks that had been recorded in the past year, and it made up a nice collection. So I've released that under the collective (and imaginative!) title of 'Singles'. They are all available individually on the usual streaming/download platforms, can be accessed as individual songs and are being aired on Lonely Oak Radio . There are some previously unreleased tracks as well as a couple of re-edited versions of some earlier songs to compliment the newer ones. These, such as South Chicago Line, sound a lot tighter for being made a bit shorter.
In between time, I'm tuning in to as many webinars as I can on different aspects of songwriting, mixing, mastering etc, which are good at informing me of how much I don't know! Also, we have a village project going on to virtually record 'The Streets of London', so my next job today is to add 15 independent vocal tracks (all done on phones) to the instrumental contributions to bring the whole thing together for the full music track. Then it's the video guy's turn!
Hopefully by the next blog, we might be approaching something closer to normality, but who knows. In the meantime, stay safe and well. If you'd like to keep up to speed with all my latest ideas and posts, planned and impromptu, then the best place for this is on my Instagram site - just click here!